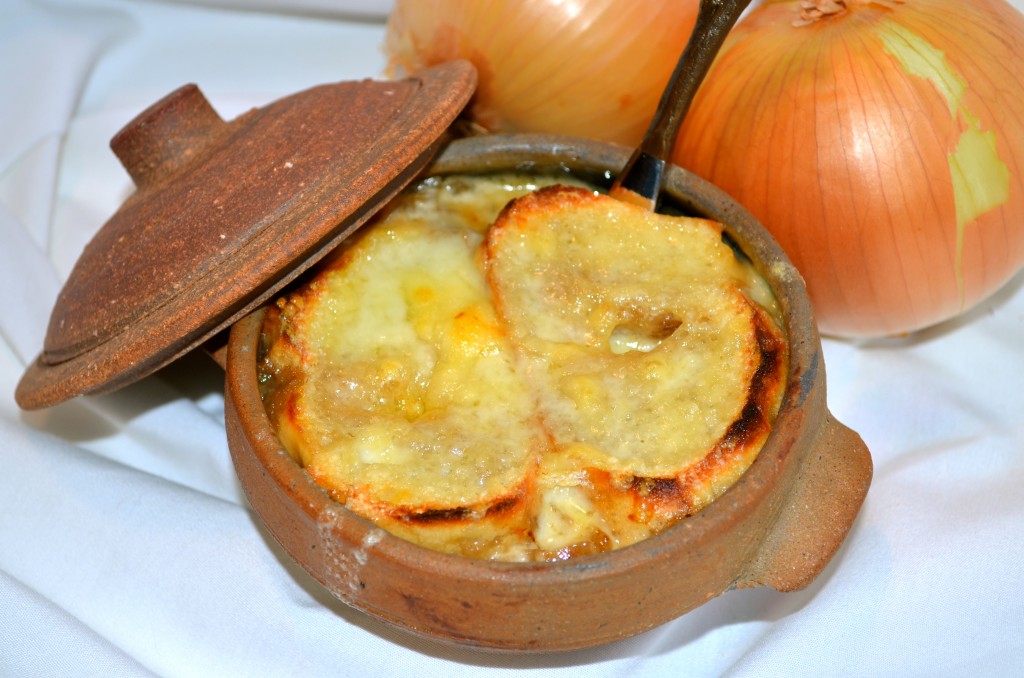 prepared by and photo by Emily S. Downs

I loved French onion soup as a kid and still love it as an adult.  Melted cheese on bread, soaked in salty, oniony beef stock.  What's not to love?

Size:

serves 4



Ingredients:
Four 10 oz. ramekins/bowls
2 medium onions, finely chopped
1 1/2 tbsp extra-virgin olive oil
1 tbsp unsalted butter
1 tbsp Calvados, Applejack, or other brandy
4 cups low-salt beef stock
Kosher salt and freshly ground black pepper
4-8 1/2?- thick slices baguette, cut to fit ramekins
1 cup grated Gruyere cheese



Directions:




Preheat oven to 450F.  Heat olive oil in a high-sided skillet over medium-high heat.  Cook onions , stirring constantly, until soft and caramelized about 20-25 minutes.  Add butter and toss onions to coat.  Add Calvados (whatever brandy you choose) and continue cooking until it is absorbed, about 30 seconds.  Add stock and bring to a simmer.  Simmer until soup is reduced to 4 cups, about 10 minutes.  Season soup to taste with salt and pepper.

Place ramekins/bowls on a rimmed baking sheet.  Divide soup among ramekins.  Top each ramekin with 1-2 slices of bread.  Sprinkle 1/4 cup cheese over each.  Transfer baking sheet with ramekins to oven and broil until cheese is bubbly and browned in spots, about 4 minutes.