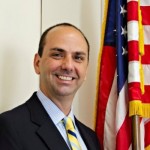 The New Jersey Association of School Administrators (NJASA) has selected three regional 2016 Superintendents of the Year: Northern Regional winner, our own Dr. Matthew J. Murphy, of Ramsey Public School District; Central Regional winner, Judith Ann Rattner of Berkeley Heights School District; and Southern Regional winner, Joseph Jones, III, of Woodbury City Public Schools.
These three Superintendents will be introduced at the NJASA Executive Committee meeting on October 28 during the Annual Fall Workshop in Atlantic City. The workshop is co-sponsored by NJASA, the New Jersey Association of School Business Officials (NJASBO) and the New Jersey School Boards Association (NJSBA).
"As chief education officer of the Ramsey Public School District – an educational system that has a well-earned reputation for excellence and has garnered recognition at the county, state and national level – Northern Regional winner Dr. Murphy has demonstrated his dynamic educational leadership ability. In 2014, the district embarked on a large scale revision of curriculum. A new format for designing curriculum units was instituted to ensure that rigorous content; and the 21st Century competencies and performance assessments were an integral part of every unit of study. This process continued at the 2015 Summer Curriculum Writing Institute, where 50 teachers from all grade levels and all of the subject supervisors worked on the 21st Century unit redesign."
For more about the NJASA Awards, read on at:www.njasa.net.