Ridgewood has a new gourmet hotspot! White Maple Café on East Ridgewood Ave opened over Memorial Day Weekend and is quickly becoming a local favorite. I sat down with owner, Ryan Brining to get the lowdown on your new favorite restaurant.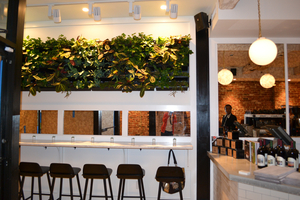 1. Exceptional Food
White Maple Café uses fresh, locally sourced food including poultry from Goffle Road Farm, seafood from Peter's Fish Market, and produce from Stokes Farm, so it's not surprising that the food is to die for. When I visited the café, I ordered a Kale Caesar Salad and my friend ordered the Beef Burger; both were phenomenal and noticeably fresh. Ryan Brining recommends customer favorites including the Chicken Salad Sandwich, the Bison Burger, and of course, the hand-cut French Fries.
2. Brunch and Coffee!
Good news, brunch lovers! In just a few weeks, White Maple will be open for weekend brunch with an extensive menu complete with Dutch Baby Pancakes, a Veggie Breakfast Bowl, and fresh, authentic maple syrup from Vermont. On top of this great news, White Maple also serves coffee from everyone's favorite local coffee shop, American Bulldog Coffee Roasters! Their rich java is the perfect way to top off a fresh salad or flatbread and artfully compliments White Maple's dessert and brunch menu!
3. The Atmosphere
Owner Ryan Brining and his fiancée Emily Battersby completely revamped the space, transforming what was previously Heidi's Bakery into a chic modern space with a vintage flare. New York City's ABC Kitchen served as Brining and Battersby's decorating inspiration. They teamed up with interior designer, Caitlin Chandler to create the airy space complete with white furnishings, marble countertops, and wooden ceiling beams from an 1800s barn. The dining area is flanked by an exposed brick wall and an antique mirror-lined wall. When you dine at White Maple, you will not only enjoy excellent food, but bask in an overall aesthetically pleasing experience.
4. Outstanding Service
The staff is uber friendly. When my friend and I walked into the cafe for lunch, we were immediately greeted by smiling faces. Later, as we were eating, we were approached several times to make sure that everything was cooked to our liking and that we were having a positive dining experience. For a delicious and accommodating dining experience, White Maple Café is the perfect spot.
5. The Backstory
Owner, Ryan Brining was an investment banker before he decided to try his hand in the restaurant business. He attended the Institute of Culinary Education's Management Program and later worked for big names including Daniel Boulud. Brining said that he had always been interested in the culinary world and attended culinary school with the goal of someday owning a restaurant.
6. Fantastic Location
Upon opening the restaurant, Ryan and Emily asked themselves the same question you have undoubtedly been asking yourself. Why didn't Ridgewood already have a restaurant like this? Conveniently located at 47 East Ridgewood Ave, White Maple Café is in the perfect central location for lunch with friends, a date night, or family dinner.
What are you waiting for? Head on over to White Maple Café today to enjoy some delicious American fare!
Click here to make a reservation or browse the menu!