Lately there are so many companies that cater to the shopper who'd prefer to shop from him by providing monthly services that deliver everything from lingerie to wine boxes or anti-aging boxes that can make you defy gravity. There are even boxes for…your pets!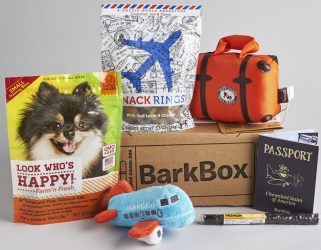 Whoever came up with this idea was BRILLIANT. I didn't cave into this trend until fairly recently; and when I did, it wasn't even for me: it was for my dog. Yup, I have to admit since the kids are older, I miss watching their faces as they open presents that come in the mail. Now, I look at my calendar and see the circle around the 15th of each month, and relish in the sheer joy that not only is it payday, but it is the day that Stella's Bark Box arrives!
One of the most adorable of all the boxes was her "Back-to School" box.  The highlights were a rubber pencil toy was also a treat dispenser and a "book" which was all about pets and their owners. There was a squeak toy inside the pages that kept her busy catching up on her reading for hours.
Another favorite was the November "Thanksgiving" box that had a complete turkey club – all held together by a stretch elastic band that made the toy somewhat like an edible plush accordion! This month's box gave me the giggles: a "traveller" box. It included a passport, a plush airplane and a little duffle bag with a handle – topped off her travel themed box.
3 Reasons Why I Love the Bark Box:
• The clever themes make me smile. I always look forward to the next month's theme!
• The treats are made with genuine "people" ingredients.
• The toys are durable and can withstand hours and hours of playing.
I think if you are in my position and and a pet parent, it is the least you can do for your pup. They are so good to us – unconditional love day in and out – it is just a really nice way to say thank you to our furry buddies.
Check them out at Bark Box.com