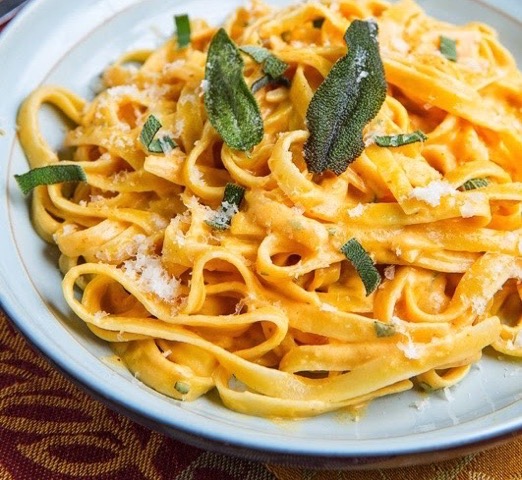 photo creds: closet cooking.com

It may sound strange, but this pumpkin-chesse sauce is unbelievably tasty. A great alternative to your everyday red or white sauce. It's a great balance of salty and sweet.

Size:

servings 2



Ingredients:
6 oz pasta (feel free to use gluten-free pasta also)
1 tbsp butter
1 clove garlic, chopped (I sliced it and then removed once it became fragrant)
1 cup heavy cream or milk
1/2 cup canned pumpkin puree
4 oz goat cheese
1/4 cup Parmigiano-Reggiano (Parmesan), grated
1 tbsp sage, sliced thinly
1/4 tsp pumpkin pie spice
Salt & pepper
1 tbsp butter
1 handful sage leaves



Directions:




Cook the pasta as directed on the package.

Melt the butter in a pot over medium heat, add the garlic and cook until fragrant, about a minute.

Add the cream, pumpkin puree, goat cheese, Parmesan, sage and pumpkin pie spice and simmer until the cheese has melted.

Remove from heat and season with salt and pepper.

Melt the butter in a pan over medium heat, let it turn a light brown, add the sage and fry until crispy.

Serve hot over the pasta garnished with more Parmesan and crispy fried sage.