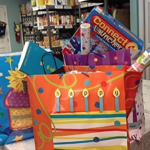 Social Service Association of Ridgewood and Vicinity provides birthday bags for our eligible clients' children who fall between the ages of 1-10. Coordinating a birthday bag for a child is a worthy and gratifying experience for any organized group, office team or individual.
Social Service Association will provide information about the child's age and gender, as well as guidelines for what to include in each birthday bag. We will also advise when a bag should be completed and when to drop it off to the SSA Office, located at the train station in Ridgewood. The dollar store is a great place to find a few of these items.
Each large gift bag typically contains gifts as well as celebration supplies, including:
Cake mix
Frosting
Candles
Paper Goods (plates, napkins)
Balloons
Wrapping Paper
Toy and/or Book (age and gender appropriate)
Anything else you may think of!
We appreciate your consideration of participating in this program. It's a very personal way to help our neighbors in need.   If you are interested, please contact us via phone or email. If you know of other organizations that may be interested in this unique program, please let us know and/or just spread the word!
6 Station Plaza…Ridgewood, NJ 07450…201-444-2980…ssa6@verizon.net
www.ssaridgewood.org