By Olivia Celiberti
Ridgewood High School Rising Senior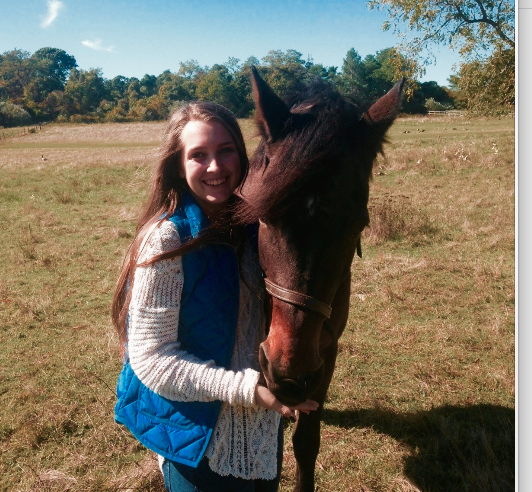 Therapeutic riding and horse assisted activities have become one of the most beneficial and cost-effective programs for today's Veterans with PTSD, At Risk Youth, Children with Autism and Families in Need.  Pony Power in Mahwah, New Jersey is a therapeutic riding organization and is making a difference for many people in our area.  I love being a part of it!!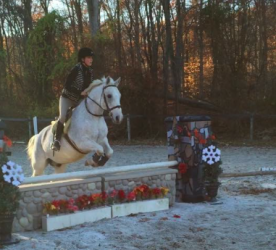 A visit to a therapeutic riding horse show on a beautiful spring day in Bedford, NY changed my life forever.  My love of horses began as a toddler, so any excuse to be at a stable was a good one, and as we approached the show, the good vibes encircled me.  We were all smiles instantly.  My cousin was riding that day and looked so excited and happy, but he wasn't the only one.  Pure joy, peace and determination showed on most of the riders' faces.  Each giant smile and focused furrowed brow, expressed victory.  This was no ordinary horse show.  I wanted to be a part of it, but how?  I quickly found the volunteer tent but discovered that Pegasus Therapeutic Riding did not operate close to my hometown of Ridgewood.  I had a new mission: to find a similar organization near Ridgewood.
With my family's help, I soon discovered a stable in Mahwah, NJ that runs a similar program to Pegasus.  Pony Power exceeded my expectations!  Jen Caffrey and her team welcomed me with open arms, and were pleased to discover that I was already schooled in horsemanship and only needed the program/barn training.  I learned so much about their program and the many benefits of equine therapy.
Since 2000, Pony Power has provided horse-assisted activities to children and adults with a broad spectrum of developmental and physical disabilities, including:
• autism spectrum disorder
• cerebral palsy, seizure disorder,
• developmental disabilities
• mental health challenges
• visual impairments
• traumatic brain injury.
They also serve individuals, families and groups facing life challenges, such as:
• trauma and loss
• substance abuse
• eating disorders
• anxiety and depression
• intimacy and social issues
• parenting challenges
As volunteer leaders, we follow a strict set of rules around the stable which helps promote routine and stability for our participants.  The stable is immaculate, and the horses are very special.  I work with participants in a variety of ways, including grooming and leading the horse and rider in the ring, as the participants learn how it feels to ride a horse.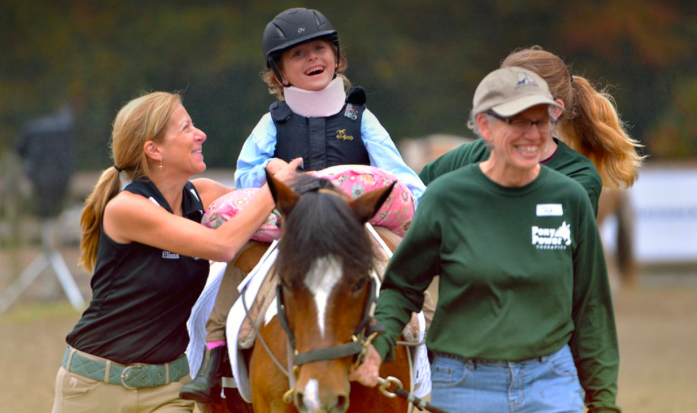 How could riding a horse help someone with disabilities?  As a rider for many years, I know one thing for certain;  when you ride a 1000lb animal, you have to trust him and vice versa or it doesn't work.  You have to control your emotions because horses have a unique way of picking up on the rider's emotions and feelings. It gives the rider a sense of empowerment to control their horse.   To understand how horse assisted activities really works, you have to understand the behavior of the horses.   While volunteering at Pony Power, I have been able to work with lots of different kids and horses all equally rewarding and impressive to me.
One of my most memorable experiences is working with a girl about the same age as I am who is blind. She was able to ride almost completely on her own despite her lack of vision. After weeks of working with the horses and instructors she was able to tell what area she was in in the riding ring, steer through cones, and ride to specific areas dictated to her. It was amazing to see how much she was able to do on the horse despite the fact that she could not see. To see how great of an impact horse assisted activities has on her life shows how truly special of a place Pony Power is.
Horses depend on living in groups in order to survive and must be able to continually get along with all of that group's members.  To promote social harmony and keep the herd together, horses possess a number of evolutionarily hardwired qualities. These include: being accepting, tolerant, kind, respectful, honest, fair, nonjudgmental, compassionate, and forgiving. All of these innate equine qualities are also utilized when a horse interacts with people.
In addition, horses do not judge humans they judge our behavior including our most subtle intentions. This is called Hypervigilance and allows horses to detect the slightest sound, smell, or movement, any of which might indicate the presence of a life-threatening predator. Their ability to read with flawless accuracy not just the behavior of others but their silent intentions is what gives the horse the psychological mirroring expertise of the most gifted human therapist.
With the help of Pony Power, a person can see himself or herself reflected back from the behavior of a horse. A horse will consistently mirror back the feelings, attitudes, and intentions of a human that initiates interaction. This can instantly be observed by how the horse responds to the person. Amazingly the fastest and most accurate way to discover who you are and what you're presenting to the world is revealed from interacting with a horse.  Also, the motion and warmth of the horse provides therapeutic benefits in a physical form and the presence of the horse provides a mental and emotional form. Therapeutic riding has but one purpose; to provide horsemanship experiences to persons with disabilities in order to enhance the quality and productivity of their lives.  I can see how it enhances the kids' lives at Pony Power, and hope it does make a difference for them when they leave. People with certain types of emotional damage experience positive feelings of well being, acceptance and compassion as they unconsciously identify with the horses.
As volunteers, we not only provide safety to the rider (who often doesn't have the balance required to ride alone safely) but are an extension of the riding instructor during lessons.  We are there to answer questions and offer support.  I love being a leader in the ring, but I have also found that my time in the stable, helping our participants groom and interact face-to-face with the horses, is really important.  I can see it in their faces and the horses react so sweetly.  It really makes sense.
Last winter I had the opportunity to work with a boy who struggled with several mental disabilities. Communication and speech was difficult for him. In addition he struggled with motor skills. Twice a week he would work with the same horse grooming and taking care of him. Working with the horses and instructor the boy's motor skills and communicating skills increases significantly. It was so rewarding to see how much his therapy program positively impacted his own and his family's lives. There's a seemingly magical connection between the children and the horses which is why I am such a believer in this type of therapy.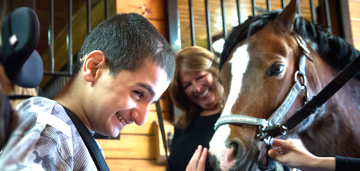 Pony Power has but one purpose; to provide horsemanship experiences to persons with disabilities in order to enhance the quality and productivity of their lives. In addition to how horses help with self-awareness I can see how our participants with mental and emotional wounds seem to experience profound healing effects from interacting with horses, and while it's happening, it gives me that same profound feeling of joy and satisfaction.
If you have interest in, or would like to volunteer at Pony Power, visit: http://ponypowernj.org.
No prior experience with horses is necessary to be considered.