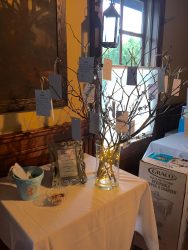 I have the perfect DIY project that can be used for a baby shower, wedding, birthday, anniversary, get well celebration, etc.
In August I was looking to create something for my niece's baby shower. Went on line searching for an idea, and came across something called "A Wishing Tree".
Seemed all I needed were branches, lights, and a vase; so I decided it could be the perfect project for me! The biggest challenge I had was finding the right branches within my own backyard. They just weren't quite right. So I reached out to Chatham floral design shop, Bloomers, and they invited me to help myself to branches they no longer had use for. With some simple trimming, they turned out to be perfect.
I used a large clear glass vase, added battery powered mini string lights inside the vase, a few more embellishments, and voila. Had custom tags made at Cambridge Street Papers in Madison. With framed instructions, each guest used the tags to fill out their "wishes" for mom and baby, and hung them on the tree. Hang them either with string or mini clothespins. (Of course, those who are more creative can choose to make their own tags).
I personally love the idea of a new mom going back and rereading those wishes and then sharing them with her child in years to come.
Use a pretty frame to place instructions for guests.
My sister painted and decorated a flowerpot to hold tags and pen.