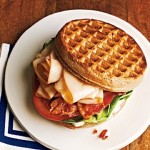 This recipe is from Cooking Light (December 2011 issue). It is quick, easy and fun to eat. I love sandwiches made with waffles.  The possibilities are endless. This particular concoction is a slightly healthier option and makes for a simple speedy meal for those nights you are on the go!

Size:

makes 4 sandwiches



Ingredients:
4 slices of lower-sodium bacon, halved crosswise
3 tbsp canola mayonnaise
1 tbsp low-fat buttermilk
1 tsp cider vinegar
1/4 tsp sugar
1/4 tsp garlic powder
1/8 tsp freshly ground black pepper
8 frozen whole-grain waffles, toasted
6 oz thinly sliced, lower-sodium deli chicken breast (or turkey breast)
8 (1/4" thick) slices ripe tomato
4 Boston or Bibb lettuce leaves



Directions:




Cook bacon in a large nonstick skillet over medium heat until crisp. Drain on paper towels.

Combine mayonnaise and the next 5 ingredients in a small bowl.

Spread mayonnaise mixture evenly over 4 waffles. Divide chicken, bacon, tomato, and lettuce evenly among servings. Top with remaining waffles.