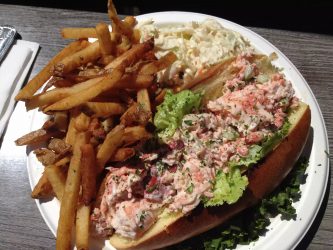 If you think you have had the best lobster roll of your life – I am challenging you. There is a hidden gem in Island Park that is being exposed for what it is – the BEST seafood restaurant on Long Island. Wow. There, I said it – and now it is out there. Artie's South Shore Seafood Market and Restaurant consistently has high quality, same day caught seafood at terrifically reasonable prices for HUGE portions. Nothing says summer better than a dozen little neck clams on the half shell and a lobster roll. There is a long history associated with this restaurant and unfortunately "Artie" the original owner and creator of this masterpiece is no longer with us. But, he has left a legacy in which his 40 years of hard work has paid off.
As you can see from the picture above, this lobster roll is overflowing with goodness.The clams are deliciously sweet and tender and melt in your mouth. KRIS Mott, catches the fish and prepares it for his chef and what results is pure magic! I had the chef's special pasta dish which consisted of shrimp and scallops in a lobster tomato cream sauce and topped with lump blue claw crab meat. I even asked to please forego the scallops and my pasta had a ridiculous amount of shrimp to make up for it! The guys had the Scungilli Fra Diavolo app and swear that they must order it every time we go – it was that good! The restaurant is not pretentious in the least bit – it has outdoor seating as well as a dining area and it is attached to an extensive fish market. The final scoop that I will share is this – Artie's is BYOB so you will not break the bank with an extensive bar tab. Bring your own bottle of wine, or even a six pack of beer and they will gladly keep it on ice for you as you dine. I hope you take the time to visit this special spot, and if you can't eat in- then take out! Drop a line on our Facebook Page and let us know how your experience was! I can't wait to gloat!
* After publishing this article I was reached out to by Artie's family. By no means did I mean to give the current owners any discredit by complimenting their awesome staff and making it seem as if they are "owners " – I must clarify that Kris Mott is NOT the owner of Artie's South Shore Seafood Restaurant and Market – he is an employee. and a damn good one at that.