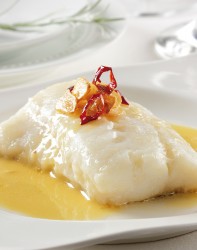 The Feast of the Seven Fishes is a beloved tradition for many Italian families on Christmas Eve. The Feast typically consists of seven different seafood dishes which may include some combination of anchovies, whiting, lobster, sardines, smelts, eels, squid, octopus, shrimp, mussels and clams but the most famous dish is baccalà, salted cod fish. No one is sure of the true significance of the 7 fishes. Some say it represents the seven sacraments or the seven days that it took for God to create the earth. Each family has their own traditions and these are handed down through the generations and enjoyed.
If you love the Feast of the Seven Fishes, but don't feel like doing all the work, there are several restaurants in the Tri-State are that will be serving this feast before and on Christmas Eve.
The Bonney Read
The Bonney Read is offering a Feast of the Seven Fishes menu all December, available for dining in. Make reservations for Christmas Eve and New Years Eve now. 533 Cookman Ave, Asbury Park (732) 455-3352.
Cavey's Restaurant
Christmas Eve, Cavey's will be serving a prix fixe Feast of the Seven Fishes from 5:00 – 8:30pm. The menu includes Crisp bacala with lentils, Atlantic swordfish alla Portuguese, warm panettone, Valhrona chocolate pudding with citrus gelato. $79 per person. 45 East Center Street, Manchester, CT 06040. (860) 643 2751.
Larimar Restaruant
Larimar is taking reservations for their Christmas Eve Feast of the Seven Fishes. If you want your Christmas Eve to be an elegant fine dining experience to remember, Larimar is the place to be. 1311 Third Avenue, Spring Lake (732) 359-6700.
Nonno's Ristorante
Make reservations now for Nonno's Christmas Eve Feast of the Seven Fishes! It's the perfect place for the whole family to enjoy. 401 Main Street, Bradley Beach (732) 455-3778.
La Pecora Bianca
Following tradition, Paidas begins with striped bass, followed by cioppino (clams, mussels, sepia, and monkfish), lobster ricotta cavatelli, and baked whole dorade with sunchokes and fennel. The cost is $80 per person. 133 Broadway, New York  (212) 498-9696.
Romans
Executive Chef, Dave Gould will be preparing his feast on December 24 including fried Baccala (salt cod) and Italian-American Scungilli (large marine snails) bean salad. . Reservtions are required. $95/person. 243 Dekalb Avenue, Brooklyn, NY 11205 718.622.5300.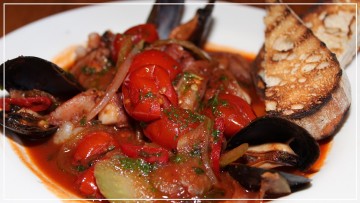 Spuntino Wine Bar
This dinner traditionally occurs on Christmas Eve, but we will be celebrating the feast for the sixteen days leading up to Christmas. Through December 24. Food and wine tasting menu, $65. 70 Kingsland Road, Clifton, NJ 07014 (973) 661-2435 and The Gallery at Westbury, 1002 Old Country Road, Garden City, NY 11530.